I was recently invited at the last minute to lead a mathematical construction for a seminar for math majors at Loyola Marymount University. The hope was to create something physical connected with one of the topics in the course, which linked the history of mathematics with various unsolved problems, among other things. Since there had been a fair amount of discussion about the Pythagorean Theorem, we settled on the following construction that demonstrates an interesting and less-familiar related phenomenon in three dimensions.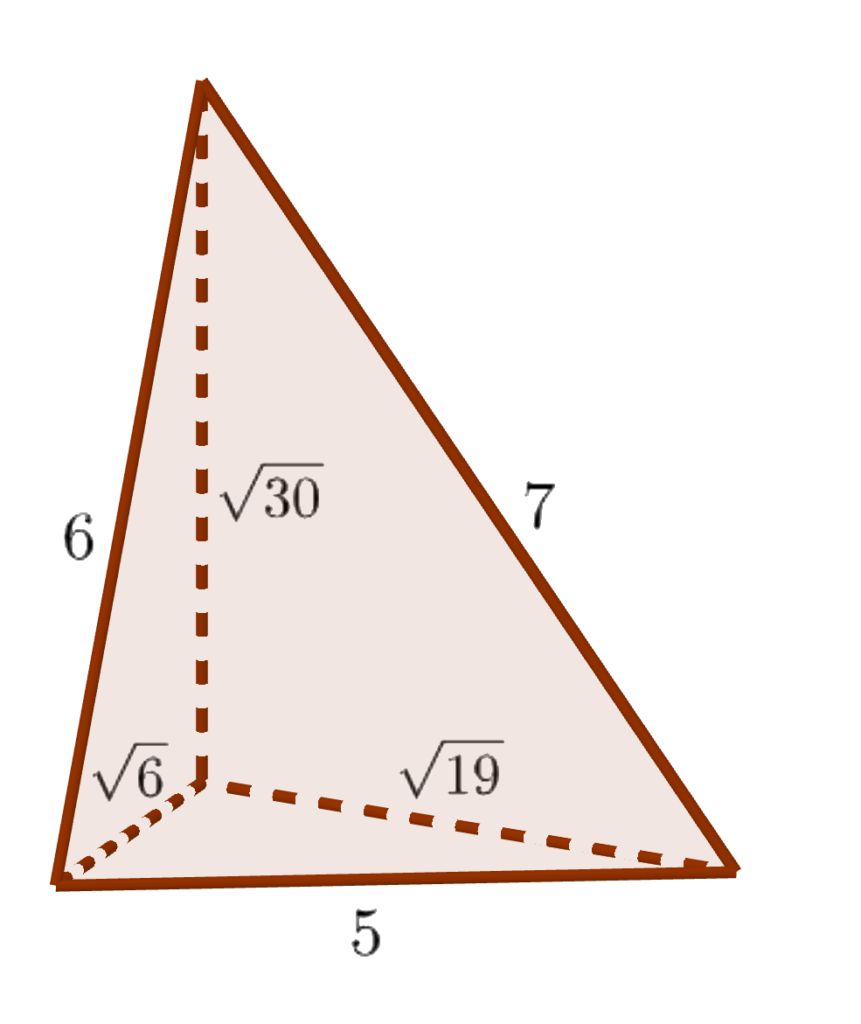 Given any three lengths, you can build a tetrahedron with a vertex where three right angles meet, and the lengths of the three edges meeting there are as given. (Basically, just cut off the positive coordinate axes to the three given lengths and join the resulting endpoints with a triangle.) Such a tetrahedron is called a "right tetrahedron" and those three initial lengths are called the "legs." The following construction (erecting a prism on each face whose height is the same as the area of the face) can be performed with any lengths for the legs, but all of the calculations below are done for legs √6, √19, and √30 (which have the pleasant property that the sides of the fourth tetrahedron face are then 5, 6, and 7, as shown in the diagram to the right). To create a human-sized result, I used a decimeter as the length unit; if you wanted to make this into a tabletop-sized construction, you could scale it down by a factor of four or five — but note that when scaling down the edge rod lengths (as opposed to the altitude lengths) you need to add one centimeter, divide by your scale factor, and subtract off the one centimeter again, to allow for the extra length created by the connectors.
| Materials | Tools |
| --- | --- |
| About 30 1/8″ diameter rods, at least 147 cm long (5′ suffices), for example wooden dowels or fiberglass rods | Measuring tape |
| About 90 custom connector clips (STL file, or OpenSCAD file if you need to tweak them) | Meter sticks |
| Three sheets of foam core, at least 70 cm by 50 cm (30″ by 20″ suffices) | Cutting pliers or small saw (for cutting rods) |
| Plastic wrap (ideally four colors of industrial-size rolls) | Box cutter (for foam core) |
| At least 225 liters of loose fill material (e.g. packing peanuts); 9 cu. ft. suffices | Scissors |
| | If rods expand after cuts: |
| Optional: thick paper or cardstock for temporary lids | Gripping pliers |
| | Drill slightly larger than 1/8″ (e.g. 9/64″) |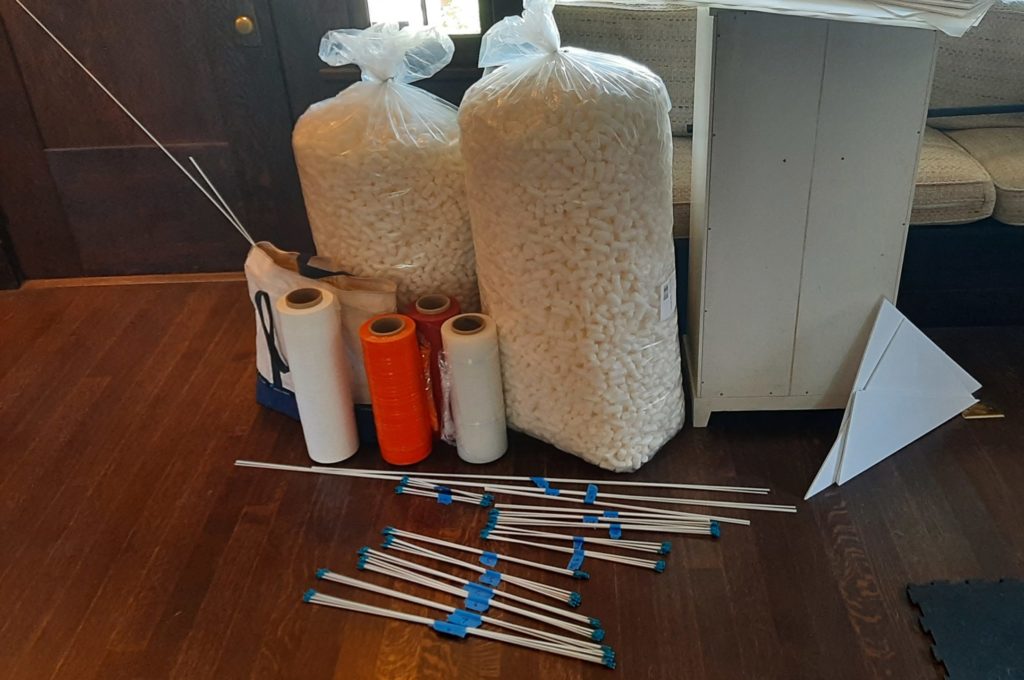 Assemble all of the needed materials and tools, and fabricate the connectors per the supplied STL file.