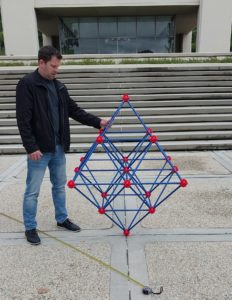 Studio Infinity has teamed up with Prof. Jim Brown and the Occidental Math Dept. to create the Oxyhedron on Friday, 2023 Nov 10, starting at 10 AM. The installation will take place just outside Fowler Hall, which houses the Math Dept. I did a site visit today; on the right you can see the quarter-scale mockup being used as a stand-in to plan the event, held in place by Jim.
The structure we'll be building is the octahedron analogue of the Sierpinski tetrahedron that formed the basis of Fort Sierpinski on the campus of Lafayette College last fall. It will consist of 1,968 rods and 457 hubs from The Ultimate Fort Builder construction set distributed by Lakeshore Learning.
Below is the poster announcing the build (note the image is to scale). Anyone reading this who will be in the area on Nov 10 is welcome to attend. More details and pictures will be posted as the event unfolds.