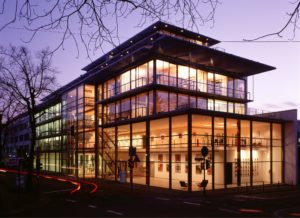 For more information:
http://arithmeum.uni-bonn.de/
Serving:
Bonn, Germany
Since:
2010
Attributes
: exhibitions, international, not-for-profit, and visitor center
The Arithmeum presents the history of mechanical calculating machines, as well as the computing of today, in an aesthetically pleasing environment. Many demonstration models invite the visitor to discover the historical milestones of mechanical calculating, and at interactive multimedia stations the visitor can develop small microprocessors in a playful way. Early highlights in the development of computers are also exhibited.
The exhibition includes works of geometric constructivist art, design objects and chairs.